Dust Filter Cartridges 120, 160, 185 mm Conical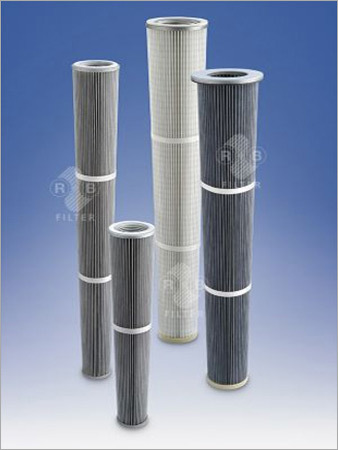 Dust Filter Cartridges 120, 160, 185 mm Conical
Product Description
The Dust Filter Cartridges 120, 160, 185 mm conical is completely certified for use in food production. Easy to clean by using compressed air, all the metal parts used in these cartridges are made of galvanized steel that resist corrosive attacks in the process. It ensures efficient product recovery due to the conical shape. Adding to it, ePTFE membrane is installed on the filter side for better functioning.
Applications:
Food manufacturing industry
Industrial vacuum cleaning devices
Pharmaceutical companies
Pneumatic conveying
Silo ventilating systems
Advantages:

Certified for utilization in food development
Effective and reliable product retrieval due to conical structure
ePTFE layer on filter side
Special types:

Appropriate for ATEX uses of all zones
Impervious to high temperatures which reach up to 220 C
Credentialed for use in food manufacture in adherence with DIN EN 1935, FDA CFR 21 or cold water permission
Metallic components of stainless steel
Other individual solutions
Features:

The running temperature has an upper limit of around 80 C
Metal components galvanized steel
Hassle-free cleaning with the assistance of compressed air
Filter Media:

Attuned to application: polyester, polypropylene, cellulose, aramid, polyphenylensulfide, other nonstandard media
Possible Equipments:

Antistatic
ePTFE membrane
Meltblown
Micro fibers
Micro-porous finish
Oil and water repellent
PTFE finish
These have been awarded with the DIN EN 60335-2-69 appendix AA certification. These are best suited carrying out filtration process of health-hazard dusts.

Accessories:

Filter holders for threads, solenoid devices, valve control systems.
Technical Specification
Raw gas side installation with thread Rd 72

Accessories: Filter holder 310-001-000058


[mm]

Length L
[mm]

Filter area
[m]

120-80

302

0,5

120-80

602

1,0

120-80

982

1,6
Raw gas side installation with thread Rd 100

Accessories: Filter holder 310-001-000038


[mm]

Length L
[mm]

Filter area
[m]

160-115

302

0,7

160-115

602

1,5

160-115

982

2,5

160-115

1202

3,0
Clean side installation


[mm]

Length L
[mm]

Filter area
[m]

185-115

302

0,7

185-115

602

1,5

185-115

982

2,5

185-115

1202

3,1
Trade Information
Yes

Within a certain price range free samples are available